Your area
Simply Pondz LTD offer a free quotation service on any job located within the areas that we cover.

Our pond service areas that we currently cover are Sussex, Surrey & Hampshire. For lake services we cover the entire UK.

If you do live outside these areas, please contact us as we more than likely can provide a free quotation depending on what work needs to be done.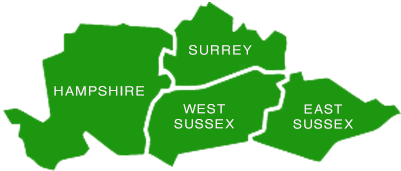 Less technical work
For more straight forward work such as pond cleaning, pond renovation, vegetation control, filter upgrades/installation even small pond builds in most cases we would not need to complete a site visit before hand.

If applicable, all we would require are the "rough" pond dimensions, pond age or date when last cleaned, fish stock and a couple of pictures via email/text including where you are based. We will then quickly work out how many people we would require for the job and give you our costs.

We do not charge hourly or daily for this work as sometimes it can take longer than expected so we provide you with a fixed all in price.

If we felt that we could not give you an accurate price based on information sent to us, we will then arrange a site visit.

More complex work
Work including pond building, large filter installations, pond re-lining, pond removal with re-filling etc we would require a site visit to discuss in detail what we could do to help.

If possible to get things started to send us a few pictures with a small description of what your requirements are.